Looking for a safer, more efficient, and less expensive way to move materials around your warehouse, factory, or manufacturing facility? Whether it's transporting product from the warehouse to the production line, moving tools and supplies to various work areas, or performing in-plant outdoor handling, using forklifts or large lifting equipment that requires specialized operators – can be cumbersome and impact productivity. The time-consuming and inefficient process of transporting materials hinders operations and ultimately translates into lost money. Traditional material handling solutions such as forklifts are bulky, difficult to maneuver, and put employees at a higher risk of injury. But now there's a better solution.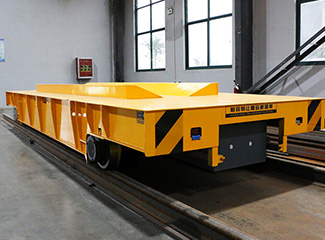 Electric material handling carts are the safest and most versatile way to transport loads of all sizes, especially heavy and shaped loads, around your warehouse or manufacturing facility. Smaller, safer and easier to maneuver than forklifts, these efficient Motorized Material Transfer Carts allow personnel to move heavier loads faster and with unmatched flexibility and reliability. Read on to learn about the benefits of electric material transfer carts and the following four categories: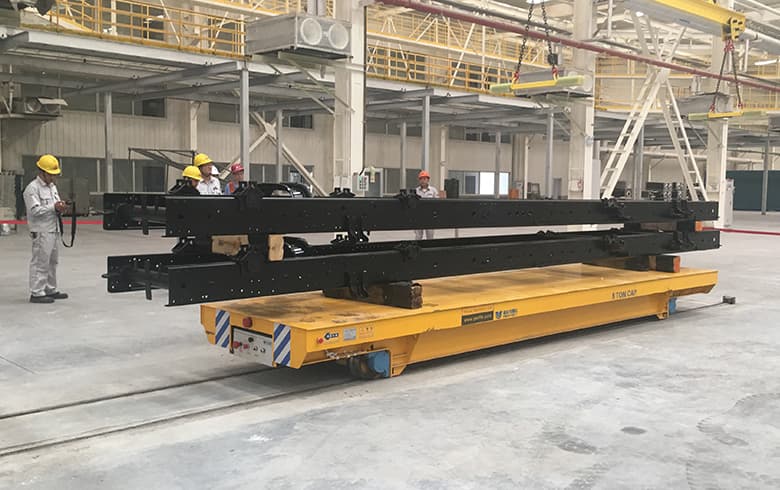 Trackless Material Transfer Carts
Material Transfer Carts on Rail
Steel Coil Transfer Carts
Customized Material Transfer Carts
Benefits Of Motorized Material Handling Carts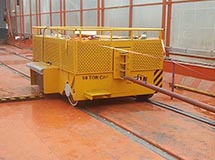 Material Transfer Carts are a great addition to your plant equipment because they increase the efficiency and productivity of your industrial operations. With these powered carts, employees can move products through large facilities faster than ever before, reducing the time it takes to transport materials. Time-saving allows facilities to run more smoothly and efficiently, often seeing a significant increase in productivity. No more waiting for products or supplies to arrive from another part of the warehouse – with these electric industrial trolleys, facilities can better meet customer needs and optimize their productivity. Request a quote / customize more industrial material handling systems here.
In addition, these Steerable Material Transfer Carts outperform other material handling options in terms of flexibility. Compared to forklifts and other traditional carts, these powered industrial carts have a large load capacity but a much smaller footprint, so they can maneuver through narrow aisles to access hard-to-reach products. They feature forward and reverse options, move at 0 to 25m/min or custom speeds, and have a tight turning radius to provide unmatched maneuverability and convenience.
Motorized Material Transfer Carts are easy to maintain. These transfer carts can be powered by a variety of power sources, including battery, busbar, cable reel, diesel ….. Materials Transfer Carts can be customized in terms of operating hours and operation, as well as the size of the transfer platform. If maintenance is required, the system drive components are easily accessible to the user, but these reliable Heavy Material Transfer Carts are virtually maintenance-free. The wheels can also be configured in different options depending on the operating environment, such as indoor as well as outdoor or high temperature and pressure, and can also run smoothly for years without problems. Best of all, they are very economical, costing only half the cost of conventional handling equipment. Buy Industrial Motorized Material Transfer Carts online here.
Trackless Material Transfer Carts Battery Powered
Material Transfer Carts on Rail
General characteristics:
Capacity: from 1 ton to 500 tons
Speed: 0~25m/min
Wheels: Steel / cast iron wheels/polyurethane
Control: Remote control/autonomous
Power: Spring drum, bus bar, cable tray, battery, diesel
Loading table: Custom size
Safety: Laser and ultrasonic sensors, bumpers
Dimensions: Custom sizes
Customized Solutions Material Transfer Carts
Perfect Transfer Cart Factory's 15+ years of custom manufacturing experience provides efficient, cost-effective, fast, and flexible transportation solutions for your industrial load transfer applications.
Customized handling areas and objects to be handled
1, Coil handling and sheet transport carts for the steel industry and steel service centers
2, Mold carts for the automotive and logistics industry.
3, Concrete transverse transfer trolleys and concrete piece carts for the concrete block production sector.
4, Carts for tanker transport, transfer carts for the logistics, railroad systems, and trailer manufacturing industries.
5, Wind turbine and blade transfer trolleys for the energy sector.
6, Transformer transport trolleys, transformer transfer trolleys for the transformer manufacturing industry.
7, Ship parts transfer trolleys, yachts, and ship transport for the shipbuilding industry.