Trackless transfer trolley, as the name implies, is a transfer cart or transfer trolley without tracks and powered by traction motors. Compared with the rail electric transfer cart, the trackless electric transfer cart is free from dependence on the track, reducing the cost of the track, and can be rotated in place 360 degrees, making it simpler and more flexible to use.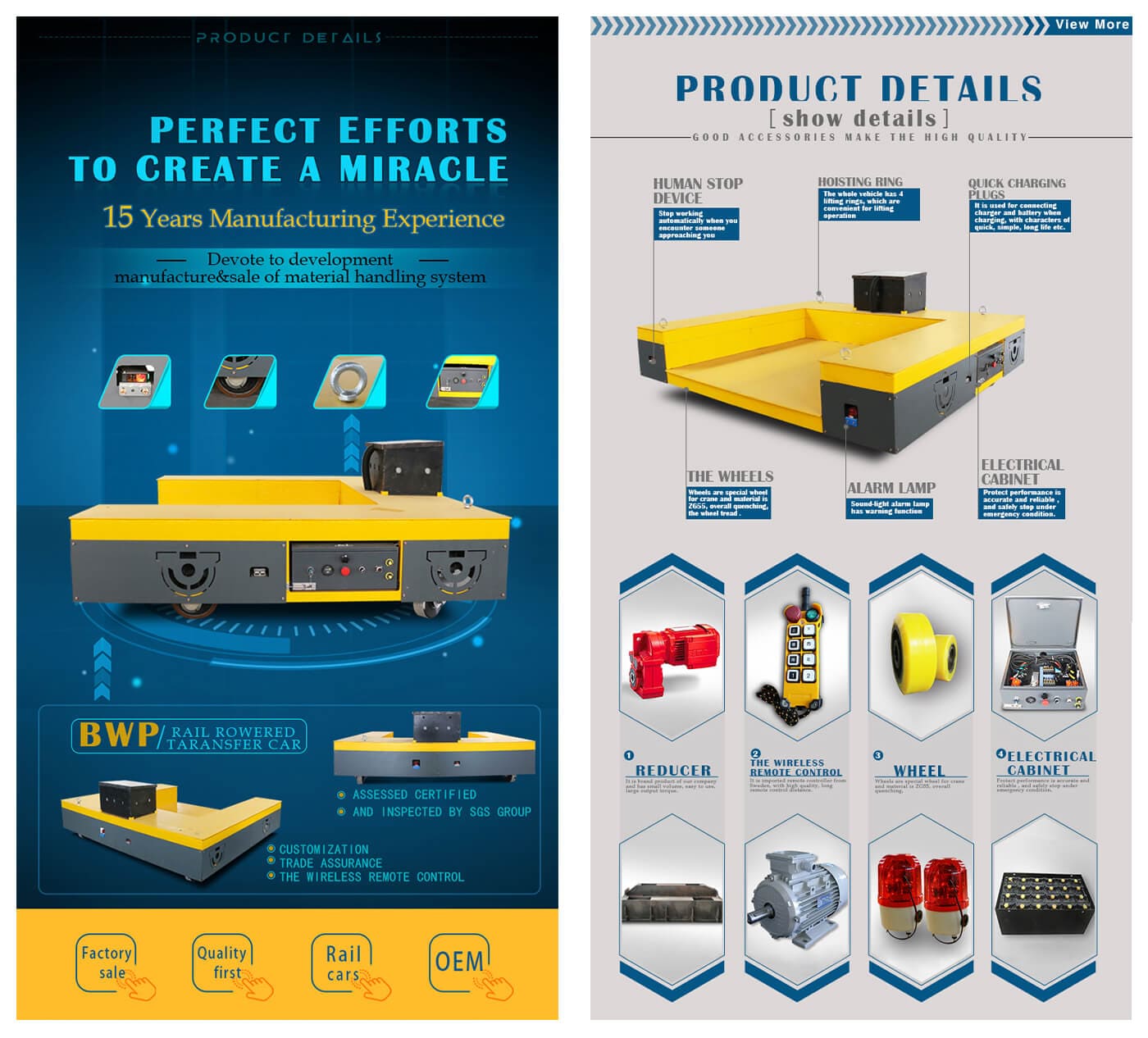 Composition of  Transfer Cart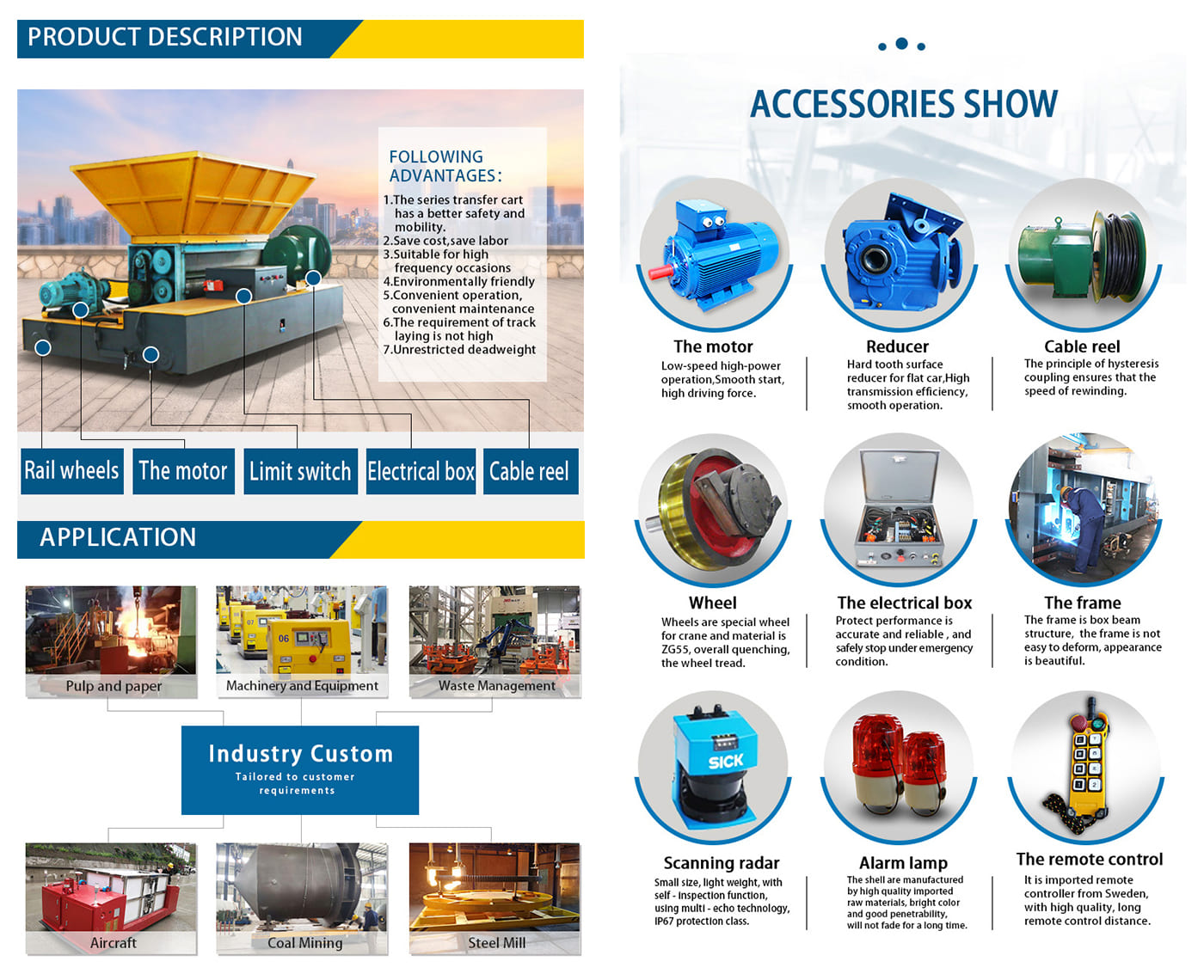 The trackless electric transfer cart produced mainly consists of a power supply, transmission mechanism, steel structure bearing frame, steering, travel mechanism, control module and fault diagnosis module. You can choose a battery, discharge motor or cable as the power source of the trackless electric flat car. The series of flat cars are equipped with warning and detection devices, which immediately issue alarms and automatically stop when encountering objects, and the cars are equipped with fully automatic intelligent chargers.
Advantages of Transfer Carts

The choice of battery as the power source of the transfer car can make the cost lower and easier to maintain.
The transfer trolley can also be equipped with other auxiliary devices such as positioning devices and lifting platforms according to user requirements and can be equipped with PLC to achieve fully automatic control.
The transfer carts can be customized according to the user's needs, such as frequency start, anti-rollover, lift, wifi wireless communication, scanning, fixed-point stop, waterproof treatment, ultra-low table, climbing, and other functionalities.
Applications of transfer carts
The application field of trackless transfer cars is very wide and can be used in numerous industrial fields, such as steel plants, mining plants, foundries, chemical plants, furnace plants, brick plants, kiln plants, refractory plants, ceramic plants, roasting plants, construction engineering companies, tunnels, flour mills, farms, etc.
The trackless transfer cart can be used to carry a wide range of products, such as metal plates, coils, steel coils, molds, goods, chemical materials, etc., because of the platform's ability to be accompanied by other device functions.
Perfect Transfer Cart Factory forwarder factory is committed to the development of industrial handling equipment, from the establishment of the company has been doing research and developing the electric transfer cart, from a few dozen kilograms of automated logistics vehicles to hundreds of thousands of tons can be developed and manufactured on their own, and has achieved excellent industry praise and the majority of consumer recognition!
Types of Transfer Carts
Perfect Transfer Cart Factory is a company dedicated to the research and development, design, production, and sales of the handling industry, the company's annual production capacity of electric transfer carts is strong and can produce 1-300 tons of various tonnage BDG low-voltage rail-type transfer carts, BJT cable reel-type transfer carts, BHX slip wire-type transfer carts, BXC battery-type transfer truck, BTL drag The eight series of products are BDG low-voltage rail-powered electric levelers, BJT cable reel-type levelers, BHX sliding wire-type levelers, BXC battery-type levelers, BTL towing cable-type levelers, BP powerless levelers, BWP trackless levelers, and BQY traction-type levelers.
Perfect Transfer Cart Factory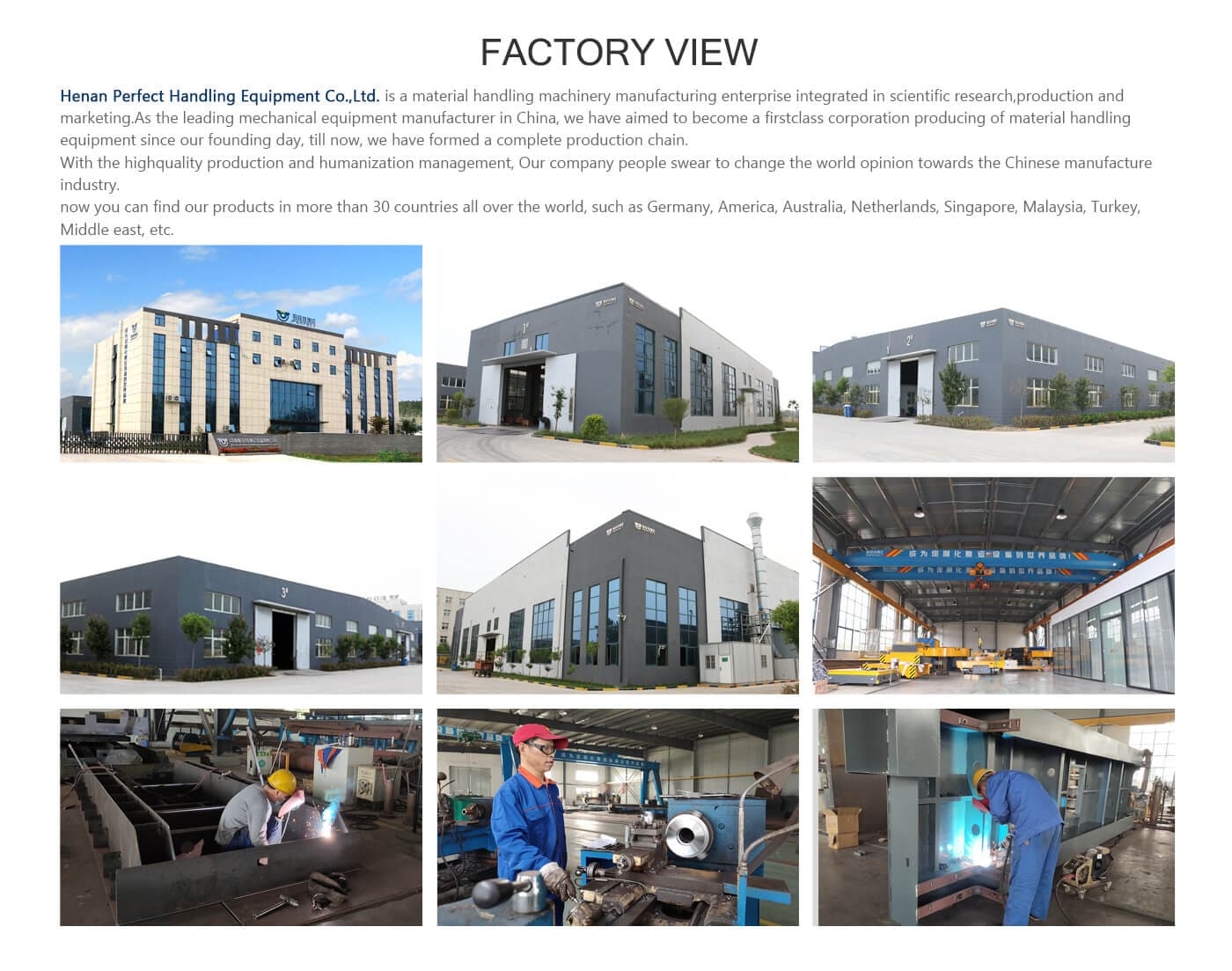 Perfect Transfer Cart Factory. Specializes in the development and production of electric flat cars, battery transfer carts, non-powered trailers, trackless electrict carts, large tonnage AGV transfer carts, and rail transfer trolleys. Perfect Transfer Cart Factory has a modern team, technical team, and production technician team, with an advanced service concept, for more than ten years, has developed into a well-known enterprise in the electric transfer cart industry.
Our professional engineering designers can provide you with customized solutions according to your handling needs and the actual conditions of the handling place. Perfect Transfer Cart Factory makes handling easier. Welcome!